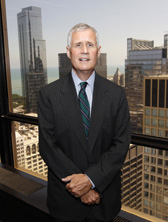 Lowell D. Snorf, III: Born Evanston, Illinois. Admitted to Illinois Bar, May, 1982. Admitted: United States Supreme Court, Federal Trial Bar, United States District Court for the Northern District of Illinois and United States Court of Appeals, Seventh and Ninth Circuits. Practice before: United States District Court, District of Arizona, First Circuit Court, State of Hawaii, United States District Court, United States District Court for the District of Hawaii, United States District Court for the Southern District of Indiana, Evansville Division, Superior Court I Jackson County, Indiana, Civil District Court for the Parish of Orleans, State of Louisiana, United States District Court for the District of Maryland, United States District Court for the District of Minnesota, United States District Court Southern District of Mississippi Southern Division, United States District Court Northern District of Mississippi Eastern Division, Circuit Court of Covington County, Mississippi, Eastern District North Carolina, Tennessee Circuit Court 13th Judicial District, Memphis, Court of Common Pleas, Montgomery County, Ohio. From 1982 to 1983, associate, Haight, Hofeldt, Davis and Jambor concentrating in federal patent, anti-trust and unfair competition litigation. From 1983 to 1992, associate then partner with Phillips, Healy, Allen & Snorf, concentrating in insurance defense trial practice. From 1992 to present, in practice with own law firm concentrating in insurance trial practice, both defense and subrogation. Graduate of Boston University, Bachelor of Arts With Distinction; Suffolk University, Master in Business Administration; Widener University School of Law, Juris Doctor.
---
Staff: To support this operation, there is one associate attorney, one paralegal and three experienced law clerks with national legal research skills using Westlaw and LexisNexis; all federal ECF/PACER/ N.E.F. applications. Law clerks\' native fluency in Polish, Russian, Ukranian, Lithuanian and German.
---
Representative Clients: List of representative clients is available upon request.
---
Experience: Experienced attorney with over 60 jury trials to verdict. Areas of concentration include: national defense of complex personal injury litigation, premises security, construction, trucking and transportation defense, employer liability including 1(B) defense, first party fraud and arson claims, professional negligence, workers\' compensation, property, automobile subrogation, agricultural law and Federal Tort claims litigation.
---
Objective: Committed to prompt response to client\'s need for personal, innovative, experienced, and quality professional services.
---
Lectures:
Illinois Supreme Court Commission on Professionalism, Mentoring Partner.

Western Loss Association: Subrogation Actions From The Property Insurer\'s Perspective.

Western Loss Association: Handling the Fire Loss Subrogation Claim.
Chicago Bar Association: How to Start and Maintain a Solo Law Practice.
---
License: Attorney Registration and Disciplinary Commission Registration No. 6182238.
Interests:
Farmer-owner/operator, Newton County, Indiana; grain farm and grain-livestock farm operations.